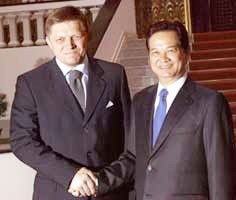 Slovakian PM Fico (L) is welcomed by Vietnamese PM Nguyen Tan Dung (Photo: Lao Dong) 
Slovakian Prime Minister Robert Fico wrapped up his three-day visit to Viet Nam yesterday by inaugurating the Slovakian embassy in Ha Noi.
The embassy is located at 12 Ba Huyen Thanh Quan Street, Ha Noi.
Speaking at the opening ceremony, Mr. Fico said that the opening of the embassy is a manifestation of Slovakia's desire to expand ties with Viet Nam.
He believed the embassy would help strengthen the traditional friendship between the two countries, and bring about new economic, trade, cultural, and training cooperation.
He also expressed appreciation for the support provided by Vietnamese agencies in opening the embassy.