A red alert has been raised against smuggling of cattle into Viet Nam after animal epidemic prevention agencies found that smuggled animals are spreading foot-and-mouth disease, a top animal health official said.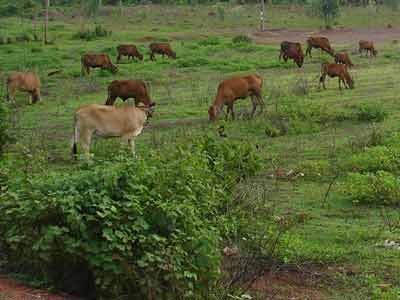 Smuggled cattle into Viet Nam are said to be able to spread foot and mouth disease (Photo: N. Anh)
Mr. Bui Quang Anh, director of the Department of Animal Health, issued the warning at a meeting in Ha Noi Tuesday, adding hundreds of heads of cattle spirited into the country through the Lao Bao border post have been seized.
But authorities have been unable to detect a further 1,000 animals that were smuggled in.
Authorities caught a truck with 50 dead buffalos in the northern province of Thanh Hoa last week but they are yet to identify the cause of death or any disease the animals may have had.
The Department of Animal Health believes cattle are smuggled in from Laos and Thailand.
Authorities have discovered some smuggled animals died of foot-and-mouth disease, an epidemic that is on the wane in Viet Nam.
To prevent smuggled cattle from spreading the disease, the Ministry of Agriculture and Rural Development wants to set up more quarantines for seized animals.
Animal health authorities have expressed concern to the ministry about the careless attitude of some veterinary stations, especially along the National Highway 1A.
The ministry promised to station its personnel at these stations and deploy more officials at border checkpoints.
The Department of Animal Health will also keep a close eye on markets in the central region where most of the cattle trade takes place.