Since early this year, increased smuggling of chickens across the northern borders has raised concerns of the deadly H7N9 virus that has already killed 18 people in China, from spreading into the country.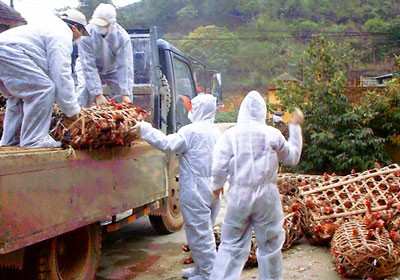 Veterinary workers transport illicit chickens to destroy in Lang Son Province (Photo: SGGP)
Saigon Giai Phong reporters spotted several cars and motorcycles transporting illegal chickens along National Highway 1A in Dong Dang Town of Lang Son Province during late afternoons in recent days.
Phung Anh Nguyen, deputy head of Doc Quyt Control Station in Lang Son, said that smuggling and transporting of illicit chickens has not abated even one little bit since the beginning of the year.
Although the station has intensified patrolling, smugglers have become bolder and are even ready to attack officials.
Nguyen Thang Loi, deputy head of the province Steering Committee 127, said that authorized organs have handled about 70 smuggling cases since early this year, seized and destroyed nearly 20,000 kilograms of broiler chickens and ducks, and more than 35,000 chicks and 1,000 pigeons.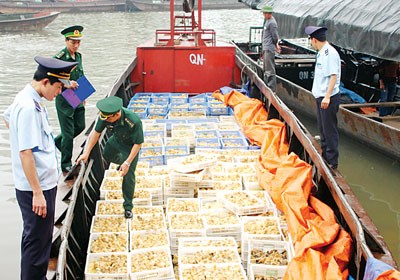 Officials seize a boat transporting illegal chicks in Mong Cai City of Quang Ninh Province (Photo: SGGP)
Steering Committee 127 was established in provinces and cities to combat smuggling, counterfeiting and trade fraud.
Smuggling continues to flourish in Quang Ninh Province which borders China, with goods streaming in via road, river and sea. The Control Station on Highway 18 near Mong Cai Border tackles quite a few illicit chicken smuggling cases on a weekly basis.
Nguyen Ngoc Vinh, deputy head of the station, said that they uncovered ten cases of smuggling of more than 9,900 chicks, one ton of 'waste chicken' and tens of thousands of chicken eggs within the last one month. 'Waste chickens' are aged hens that no longer lay eggs.
According to the Steering Committee 127 in Quang Ninh, authorized organs have detained nearly 30 tons of broiler chicken, 200,000 chicks, 35 tons of poultry and 43 vehicles used for transporting these during the first quarter the year.
Chicken smuggling from China to Vietnam has also increased along other northern border provinces like Lao Cai, Ha Giang and Cao Bang.
SGGP reporters have recorded that a kilogram of 'waste chicken' costs only VND20,000 in China, and goes upto VND50,000 in Lang Son Province and VND100,000 in other provinces and cities.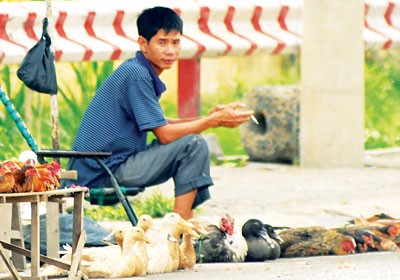 Live chickens being sold at entry gates of HCMC (Photo: SGGP)
Earlier, smugglers mainly used motorcycles and trucks to transport illicit chickens, but now they use fast cars to escape from officials.
Le Hai Dang, head of the Market Management Division in Lao Cai Province, said smugglers now bring in live chickens near border areas to slaughter. The slaughtered poultry is then packed with ice in thermocol boxes before being transported inland.
Smugglers even pack off illicit chickens on rafts and let these drift along rivers in Mong Cai City in Lao Cai till they reach further inland.