The Hanoi chapter of the Ho Chi Minh Communist Youth Union (HCMCYU) on April 14 handed over to Ly Son island, central Quang Ngai province a solar power system to light up the flagpole on Ly Son's highest mountain.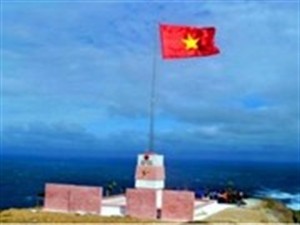 (Source: VNA)
Thanks to the VND 200 million  (9,400 USD) system, the flag flying high on Thoi Loi Peak is now visible at night to fishermen at sea.
Deputy Secretary of the HCMCYU's Quang Ngai chapter Nguyen Hoang Hiep said the work aims to raise the youth's awareness of their responsibility for national construction and sovereignty protection.
The same day, the Quang Ngai chapter in coordination with a group of doctors from the Ho Chi Minh City Central Odonto-Maxillo-Facial Surgery (OMS) Hospital and the Cho Ray Hospital provided free check-ups and medicines for 800 local patients and donated dentist equipment worth VND 150 million (around 7,000 USD) to the Ly Son health care centre.
On the occasion, the HCMCYU's Ho Chi Minh City chapter granted 200 gifts to the poor on the island while the Quang Ngai chapter presented two houses worth VND 60 million  (around 2,800 USD) to local people.