The Vietnamese Government should strictly enforce environment laws and subsidize waste treatment to cope with industrial pollution and its consequences to human health, suggested many health and environment experts.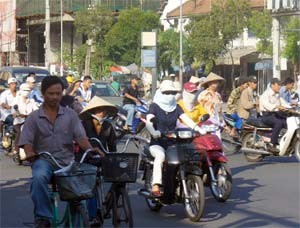 Many Ho Chi Minh citizens wear masks when moving on streets due to polluted environment. (Photo:TK)
According to Dr Tran The Loan, Head of the Ministry of Natural Resources and Environment's environmental pollution monitoring section, around 101 of 134 industrial and export-processing zones nationwide had not invested effectively in waste treatment while ten more zones under construction now did not focus much on this either.
He also calculated that fifteen million tons of solid wastes were annually released into the environment, of which 150,000 tons were toxic chemical. The number was forecast to rise by 24-30% by 2010.
This is not including dust, sulfur dioxide, nitrogen dioxide, and carbon monoxide, which usually exceeded safety levels by 20-435 times at construction material manufacturing factories, by five-125 times at coal and metal plants, and by 10-15 times at ship building or mechanical factories.
Mainly residential areas in Ho Chi Minh City, Ha Noi, Hai Phong, and Da Nang, are being threatened by the extremely dangerous waste of these factories to human health.
Dr Tran Dac Phu, Vice Director of the Health Ministry's Preventative Health Department said there is an increasing incidence of diseases in polluted areas.
For instance, he said, many locals in a "cancer village" in the northern Phu Tho province's Thach Son commune had the disease due to contamination by nearby factories.
High rates of indigestion were reported in areas along polluted rivers. Some communes in the northern Ha Nam province reported roundworm infection in 86% of children. Eyes, skin, and reproductive health were also being affected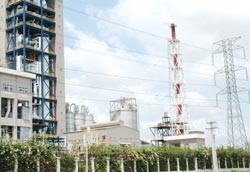 A coal-powered electric plant in Formosa industrial zone releases waste into the sky.
Over 94% of wells being studied in Ha Nam province's Hoa Hau and Bo De communes had arsenic levels many times above the safety thresholds, added Mr. Phu.
"It is the price we have to pay for pursuing economic development without heeding the environment," said Deputy Environment Minister Pham Khoi Nguyen.
Mr. Nguyen suggested strictly enforcing environment laws and subsidizing waste treatment and private enterprises and factories must now carry out the task themselves.
There were companies specializing in waste treatment technologies but they were incompetent and used obsolete technologies. Only eight of the country's 82 industrial dumps were considered "adequate" in terms of effectiveness.
As a short-term measure, the environment ministry plans to focus on toxic effluents, noise and air pollution, and food and water hygiene, and conduct regular health checks on people living in affected areas.