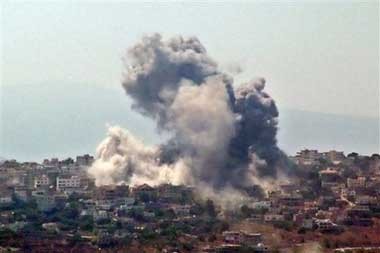 Israel's rockets are launched into Lebanon
The Ministry of Foreign Affairs has appointed Mr. Tran Viet Tu, counselor of Vietnamese Embassy in Egypt, in charge of evacuating Vietnamese workers residing in war-torn Lebanon. To date, Mr. Tu and his team have evacuated more than 74 Vietnamese workers safely, but there are some missing workers, and their family asked the MFA for help.
Sai Gon Giai Phong caught up with Mr. Tran Viet Tu on Monday to obtain the latest information on the three workers.
SGGP: Many families of Vietnamese missing in Lebanon have pleaded with you to scour for their relatives. Have you found everyone yet?
Mr. Tran Viet Tu: As the war in Lebanon has progressed, I have received dozens of phone calls from people in Viet Nam asking about their relatives.
I have since consulted the brokers who exported Vietnamese workers to Lebanon. It was not easy because their names and addresses were hidden.
The Vietnamese guest workers in Lebanon are not under the Government's management, which makes it difficult to find their address. Ultimately, I've found the brokers, but there are still difficulties in obtaining correct addresses from them. We had to threaten to sue them for illegal worker export to have them reveal the addresses.
But even after receiving some addresses, I have not been able to contact many workers as some Lebanese families want to keep Vietnamese labors with them.
SGGP: Could you tell me the names and addresses of those who remain in Lebanon? Do they know that their families are looking for them?
I am very upset about three Vietnamese workers: Dang Huyen Nga, Nguyen Thi Thanh Nga and Nguyen Thi Tam. Dang Huyen Nga's friend had registered her name on the first repatriation list, but she did not leave.
I phoned Huyen Nga, but she said that her boss would not allow her to leave or make phone calls. So I came to meet her and she shouted at me, "You cannot force me to repatriate. I will return home whenever I want."
Like Dang Huyen Nga, Nguyen Thi Thanh Nga's mother and brother asked me to help her return home. They said that she had been missing for 6 years. But when a group of reporters and I came to her house, she scolded and sent us away. She also said that I was not allowed to force her to leave Lebanon.
Nguyen Thi Tam, the last one, was also considered missing. Her family did not know where she lived in Lebanon. I found Tam's place and phoned her, but she told me that her boss would not let her leave.
So I had to meet her and found out that she did not want to leave, and Nguyen Thi Tam was quite rude when I offered to help.
Despite my constant efforts to help, some people do not want to return home.
17 More Vietnamese Workers Evacuated to Syria Safely
Seventeen more Vietnamese workers in Lebanon were safely evacuated to Syria on Tuesday, said Mr. Tran Viet Tu. Despite a roadblock caused by bombs, the relevant organizations safely evacuated the laborers from Beirut to Syria. They will fly from Damascus to Bangkok, and then to Viet Nam as scheduled.
However, some do not want to leave Lebanon now. Those who wish to return home, should register to representative of IOM in Beirut or contact the Vietnamese Embassy in Egypt at the telephone number: 00202 7617309 or email: vinaembegg@yahoo.com.