No casualties were reported from a raging fire that engulfed the entire Tan Loc Market in Thoi Binh District of Ca Mau Province in the southernmost tip of Vietnam on April 22, completely destroying 49 booths and many essential facilities.
The blaze was so intense that it took two hours to bring under control. Senior lieutenant Huynh Minh Chien, deputy chief of Thoi Binh District Police Station said the fire started at booth No.15 and then spread rapidly, burning down the market and its main facilities, with damages estimated at VND10 billion (US$504 million).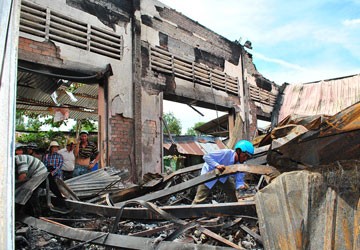 Traders try to salvage their belongings after the blaze destroyed the entire market
Local government officials visited traders who had lost their property in the fire and gave them monetary assistance to tide the situation temporarily.
On the same day, in another tragic accident, three children of Luong Thi Mong Dung, 53, were killed in a fire when sleeping in their house in Pleiku City in the highland province of Gia Lai. They were Le Thi Kim Chi, 23, Le Huu Nhan, 21, and Le Thi Ai Nguyen, 20.
The fire occurred at midnight and quickly destroyed the house, despite all efforts to bring it in control by the local people.
The three children were unable to escape the flames, but their mother, who was sleeping downstairs, was lucky to run out in time.
An electric short circuit is suspected to have triggered the fire, said local authorities, adding they will investigate the actual cause soon.
Also, a 12 seater passenger vehicle with number plate 53M-7581, suddenly burst into flames on Chi Cong- Phan Ri Cua Streets in the central province of Binh Thuan on the same day; fortunately, there were no casualties as passengers jumped out of the bus in the nick of the time.