A press release on April 26 in Hanoi, jointly issued by Ministry of Public Security, Ministry of Science and Technology, Ministry of Industry and Trade, and Ministry of Transport, stated that the public found the five reasons given for the spate of vehicular fires as ambiguous and were still seeking more satisfactory answers.
Unofficial analysis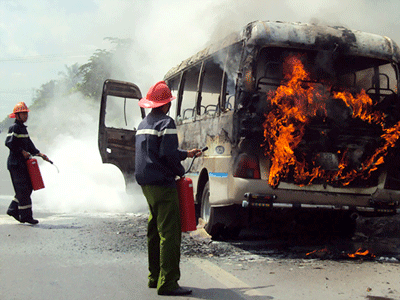 Flames engulf a van on Ho Chi Minh City-Trung Luong Highway in March, 2012
According to Nguyen Van Tuoi, deputy director of the Central Department for Firefighting and Rescue under the Ministry of Public Security, during the period 2010 to 2011, there were 324 cases of sudden vehicular fires nationwide, 276 of which were car fires.

Analysis from concerned agencies identified the causes of 209 fires. Among them, 64.5 per cent were from explosions, 30.3 per cent from short circuit, 15.1 per cent from mechanical problems, 9.8 per cent from carelessness of drivers, 4.6 per cent from traffic accidents, and 4.3 per cent by owners destroying on purpose. There were also 115 cases or 35.5 per cent of unknown causes.

Statistics this year showed that since January, there have been 115 cases of vehicular fires countrywide, 59 of which were of scooters, causing 3 injuries and a total damage of more than VND20 billion (approx. US$960,000). The most important fact is that in only 25 cases or 21.7 per cent, the cause could be identified.

The damaged vehicles were from various manufacturers and some of them exploded quite suddenly while just parked at homes, or while undergoing repairs at the mechanics, or as soon as the ignition key was used to start the bike.

Despite the rumour that low-quality gas was the main cause, up till now, there has been no official statement as such which would lay the blame squarely on gas.

Major General Tran Anh Dung, Deputy Director General of Police for Administrative Management of Social Order and Safety under the Ministry of Public Security, stated that the government had encountered difficulties in inspections, because at the time of the accident, there was more of a demand to ease the traffic, rather than to run a scientific analysis.

The five reasons mentioned above, are merely results of preliminary inspections. More time is needed to find specific and accurate causes, so as to hand over a detailed report to the Prime Minister.

Insufficient Inspections

Though gas has been ruled out as one of the causes, recent checks of quality of gas, has worried the public.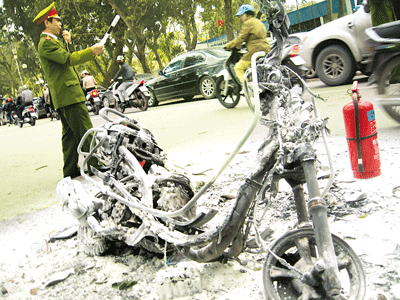 Completely charred remains of a motorbike (Photo by Q.Khanh)
According to Tran Van Vinh, Deputy Head of the Directorate for Standards, Metrology and Quality under the Ministry of Science and Technology, among the 704 samples taken from gas stations nationwide in 2011, 552 met with national standards, accounting for 78.4 per cent, and the other 147 did not meet the required octane rate, while in 5 cases gas contained methanol. Most of these low-quality samples belonged to businesses wishing to commit commercial fraud.

In 541 samples of petrol and 128 samples of diesel taken for analysis this year, there were 60 cases of low-quality petrol due to a lack of octane, accounting for 11 per cent, and 17 cases of low-quality diesel because of high sulphur content, taking up 13.28 per cent.

56 samples of gas from damaged vehicles in recent fires and explosions, as well as from the gas stations that sold petrol to them were also collected for inspection. Almost all met with national standards and contained no methanol or acetone. As a result, the Directorate for Standards, Metrology and Quality declared that there was no evidence showing that gas was a reason for the recent vehicular fires and explosions.

However, the public requested concerned agencies to also consider the possibility of gas as an indirect cause.

Associate Professor Dr. Hoang Manh Hung, Director of the Department for Consultancy Judgment and Social Expertise under the Vietnam Union of Science and Technology Association, commented that the percentage of low-quality petrol discovered lately is too high to be ignored.
Moreover, to identify the true cause of these accidents, it is not sufficient to merely concentrate on checking the rate of octane or methanol in petrol and diesel. He suggested that the Directorate for Standards, Metrology and Quality make different inspection criteria for imported gas in accordance with its original country.
Most cases of vehicular fires in Vietnam were caused by broken oil joints, heat from friction of brakes, heat from friction of broken ball bearings, short circuit of electrical system. There has been no evidence of fire caused due to low-quality gas or mechanical problems, since gas containers in these damaged vehicles are still intact.
Representative of the Institute of Criminal Science under the Ministry of Public Security