More specific action plans and programmes along the direction of economic and labour restructuring are needed to further reduce poverty in the North-western region, where the poverty rate remains as high as 17.9 percent, according to Deputy Prime Minister Nguyen Xuan Phuc.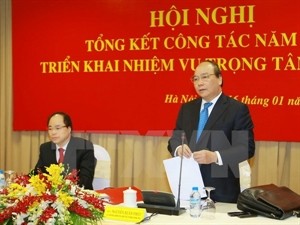 Deputy Prime Minister Nguyen Xuan Phuc at the conference (Photo:VNA)
Chairing a conference of the Steering Committee for the North-western Region on January 16, the Deputy PM, who is also head of the committee, asked the Ministry of Agriculture and Rural Development to assist in selecting plants and animals suitable for farming in the region.
He also required the ministry to design projects helping mountainous localities to develop forestry, which is an important sector for the region taking into account its natural conditions.
At the same time, Deputy PM Phuc urged better planning for residential areas in border area in the context of rampant migration of ethnic minority people, in order to be more proactive in dealing with the issue.
The leader asked ministries, sectors and localities to pay due attention to fostering the political system and develop the Party membership at the grassroots level, whilst police and border guards need to keep close control of border security and crack-down on human trafficking, trade of drug and contraband goods.
In 2014, the North-western region recorded an average gross domestic produce (GDP) growth of 8.14 percent, deputy head of the steering committee Truong Xuan Cu reported.
The region's total industrial production was valued at over VND 83.2 trillion ( US$ 3.9 billion), while average per capita income was estimated at VND 24.7 million ( US$ 1,157 ), up VND  2.6 million  against 2013. The proportion of poor households was 17.9 percent, down 4.6 percent from the previous year.
The North-western region comprises Lao Cai, Hoa Binh, Son La, Yen Bai, Lai Chau and Dien Bien provinces.