With their parents' permission, some spoiled teenagers in Ho Chi Minh City were tasked for sanitary work on April 20, in an effort to make them realise and understand the value of labor and hard work involved in earning a livelihood.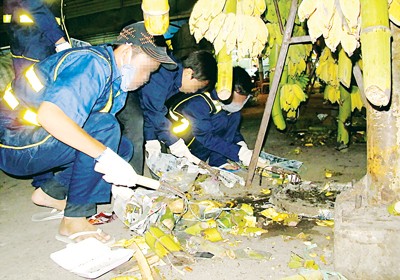 Indulgent teenagers collect garbage from under a booth in Pham The Hien Market in District 8 (Photo: SGGP)
Nguyen Thi Thu Thuy, a street sanitary worker of a company in District 8, asked a 15-year-old boy to bring the necessary tools needed to do cleaning jobs--when the teen moved in with him.
The boy returned with a broom and dust pan and along with other teens of around his age, removed heaps of jackfruit peels that were littered all over Pham The Hien Market in District 8.
The boy sweated in just three trips to the garbage truck with the load on his shoulders.
Two teenagers aged 16, one boy and girl, cleaned garbage from under vegetables booths. Both wanted to run away from the stench of putrefied garbage but were made to stay. The boy carried the big garbage bags as he was stronger while the girl collected the refuse into the bags.
While on this task, the two teenagers spied a bag with money in it and realizing it was wrong to keep it, they handed it to their leader to return to the owner.
By 9pm, 20 teenagers had collectively cleaned up the market. One teenager said that after he lost his father nine years ago and after his mother too deserted him eight years back, leaving him and his siblings in the care of his old grandfather, he had little or no chance to learn the nitty-gritty of life.
Besides teasing people, he knew little else. But after just one cleaning experience, in which he earned VND100,000 (US$4.8) as wage, he understood more deeply the value of labor and the effort required to earn money.