The Party and State wish that women would have better lives, both materially and spiritually, and improve their knowledge and professionalism to engage more in issues of society and the nation, said the State President.
President Nguyen Minh Triet delivered this remark at a reception given to 120 out of almost 430 outstanding women nationwide who are in Hanoi to attend the 2nd national emulation congress of the Vietnam Women's Union (VWU).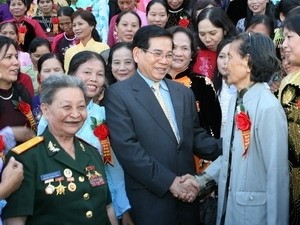 President Nguyen Minh Triet (C) meets with delegates at the Vietnam Women's Union's emulation congress. (Photo: Vietnam News Agency)
He said the Party, State and people always highly value the role played by women in society and families, noting that women are an indispensable part of society and contributed greatly to the success of the Vietnamese revolution in the past as well as the country's national construction and development achievements at present.
The State leader said he hoped that women from all parts of the country will continue to study and improve their professionalism to meet new requirements in the integration period.
Agencies, mass organisations and families need to support and create more favourable conditions for women to fully promote their abilities to undertake social affairs and also take care of their families, he said.
The President asked Vietnamese women to step up emulation movements in combination with the ongoing campaign "Study and follow Ho Chi Minh's moral example".
The VWU Central Committee and its chapters at all levels should spare no efforts to build up the national unity bloc and increase awareness of social evils and affairs, including marriage with foreign men, among local women, especially for those in isolated, mountainous and ethnic minority-inhabited areas, President Triet stressed.