President Truong Tan Sang delivered greetings to workers at the My Xuan A2 Industrial Park in the southern province of Ba Ria – Vung Tau on February 9, the second day of the Lunar New Year.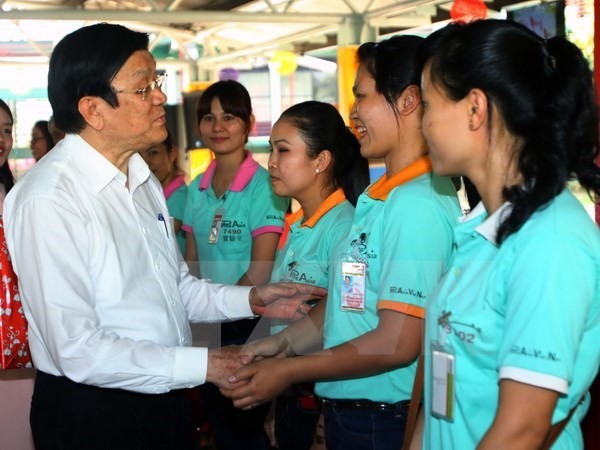 President Truong Tan Sang (L) visits workers of the Prime Asia Vietnam Co. Ltd (Photo: VNA)
Visiting the Prime Asia Vietnam Co. Ltd which operates in the leather industry, the President offered best wishes to the company's employees.
He was informed that the firm's care for its workers has been improving in recent years as evidenced by dormitory construction, free meals and social insurance and labour accident insurance purchase for employees.
However, workers still encounter certain difficulties in their life, such as incomes not yet being sufficient to meet daily needs, a shortage of nursery schools for their children and a lack of entertainment venues. They had also hoped for more assistance to help them return to their hometowns and reunite with families on the Lunar New Year holiday.
Sharing labourers' hardships, President Truong Tan Sang asked officials to devise long-term measures to better care for workers' lives.
But, he also applauded Prime Asia Vietnam's efforts to better employees' living standards and told the firm to carry on with its achievements and expand operations to create more jobs.
Also on February 9, the State leader visited workers at the Thanh Phu Industrial Park in the nearby province of Dong Nai.