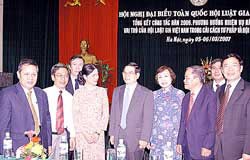 State leader Nguyen Minh Triet and other participants at the meeting
In order to consolidate the Party and State apparatus, Vietnamese lawyers must actively participate in the consultation process, engage in social criticism, strengthen its oversight of law enforcement and lead the fight against unnecessary bureaucracy and the abuse of power, State President Nguyen Minh Triet said.
Mr. Triet made the comments yesterday after attending a national conference of the Viet Nam Lawyers Association (VLA) to discuss the implementation of its 2007 plan. The meeting was held in Ha Noi under the name "The VLA's Role in Judiciary Reform and International Integration". Speaking at the meeting, the State President said that the VLA plays an important role in those processes of reform and integration, particularly since Viet Nam has become a World Trade Organization (WTO) member.
He stressed that the association's key tasks this year are to develop legal documentation in line with WTO regulations, determine the requirements for administrative and judiciary reform, promote Viet Nam's legal system both locally and abroad, take part in conciliation activities at the grassroots level and provide legal assistance.
He also asked the association to review its methods of dealing with complicated economic disputes arising from the international economic integration process.