The Party, the State and people always highly valued contributions by youth and believe in the young generation, President Nguyen Minh Triet affirmed in a direct dialogue with 700 representatives of Vietnamese youth, students and young intellectuals in Ha Noi on Mar. 25.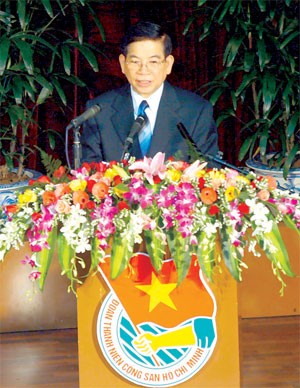 State President Nguyen Minh Triet delivers a speech at the dialogue with Vietnamese youth in Ha Noi on March 25

The dialogue, broadcast live on VTV1, was part of the "Vietnamese youth: dynamism, creativeness, integration and development" program held by the Ho Chi Minh Communist Youth Union on the occasion of the union's 76th founding anniversary and the Month of Youth in 2007.
 
Speaking at the dialogue, President Triet stressed that young people play a special role in the nation's revolutions, and affirmed that they are the country's future. Praising their talents to quickly adapt themselves to the new situation and to assume new tasks, he stressed that young people are willing to establish their career and business to implement Uncle Ho's dream to build a strong Viet Nam.
 
During more than two-hour dialogue, President Triet and leaders of ministries and sectors frankly answered more than 20 out of 20,000 questions sent to the exchange.
 
Regarding the question on the Party and State's viewpoint on the youth's role, President Triet said that the Party, the State and people always attach importance to the role of the youth, and create favorable conditions for them to develop properly and assume their role in the society.
 
The State leader laid stress on the young people's important role in the integration process. "Developing human resources, particularly young human resources, is a strategy of the Party and State, especially in the international integration process," the leader said.
 
On the Party and State's determination to prevent and combat corruption and wastefulness, President Triet said, "On the one hand, we have to root out the seeds of corruption and wastefulness; on the other hand, we have to improve the management and leading capacity of our cadres. With the determination of the whole Party, the entire people and army, the combat against corruption and wastefulness will succeed.
 
Concluding the dialogue, President Triet said, "The country has become a WTO member- 'Our ship has been on high sea', therefore we must prepare everything to face big waves and strong winds."
 
The leader hoped that young people to do their best to contribute to the national construction, pay attention to learn and drill themselves to meet the new tasks, thus deserving the senior generations' confidence.
 
At a meeting held in Ha Noi the same day, Prime Minister Nguyen Tan Dung presented awards to ten outstanding young people of 2006 - an annual prize given by the Ho Chi Minh Communist Youth Union Central Committee to honor excellent young people nationwide.