The Central Highlands province of Gia Lai has won praise from State President Nguyen Minh Triet for its efforts in restructuring the local economy in a sustained and robust manner.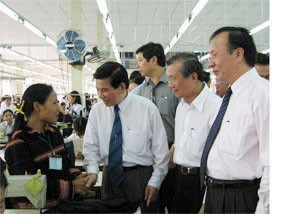 President Ngyen Minh Triet (L,2nd) shakes hands with a worker of Nha Be Garment Company during his visit to Gia Lai Province on April 19

The president made the comments while on a visit to the province, which was due to run from April 18-19.

In 2006, Gia Lai recorded an economic growth rate of 13.1 percent, a rate far higher than the national average of 8.2 percent and per capita GDP rose to 6.3 million VND a year.

In the first quarter of this year alone the province recorded a GDP growth rate of 13.2 percent, the highest recorded first quarter growth rate in five years.
The President signaled out the shift from an agriculture-based economy to one that is now more inclusive of industry and construction as primary reasons for the province's success.

Since 2001, the percentage of agriculture and forestry in Gia Lai's economy has fallen from 58 percent to 49 percent, while industry and construction has increased from 18 percent to 25.3 percent.

While Gia Lai has been eager to move from an agriculture production base, what is grown now is being done so at a macro level, the President said.

The locality has now earmarked large swathes of land for mass production of food and industrial crops. The province has 122,000 ha producing cash crops, which includes 76,000 ha of coffee, 62,000 ha of rubber and 20,000 ha of pepper.

Hydropower production, farm produce processing, construction and education are all developing rapidly in Gia Lai.

The province now has 641 schools with 9,300 classrooms which are home to a student body of nearly 300,000.

President Triet said that Gia Lai still remains a poor province, however; and urged it to focus all of its efforts on promoting socio-economic development and attracting investment from other provinces.