State President Truong Tan Sang on April 7 made a fact finding tour to inspect the dyke network and forest areas in the southern hub of the country.
The three hour tour by helicopter started from Ho Chi Minh City and ended in the southernmost province of Ca Mau, where the President was updated on projects for upgrading and extending the dyke network and informed on the economic benefits of maintaining a strong dyke network.
In Ca Mau Province, President Sang met with people of Dat Mui Commune in Ngoc Hien District and praised them for their effort and creativity in growing and protecting mangrove forests and reinforcing the dykes.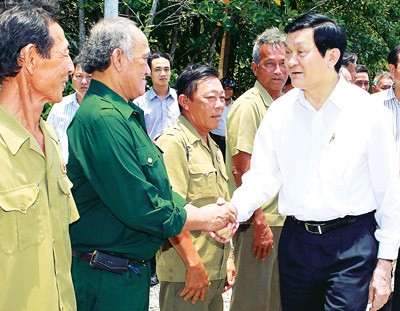 President Sang (R) meets with people of Dat Mui Commune in Ngoc Hien District
He advised the local people to reclaim any available land and use the natural resources to promote socio-economic development in the area, and urged the local community to constantly monitor and upgrade the dyke network.
Ca Mau has a 100km long network of dykes that links with the neighboring province of Kien Giang. Some sections of the western dyke network have been badly damaged and are in need of repair. This has adversely affected production and the livelihoods of thousands of local households.
A project to replant forests in the area to help protect the dykes is expected to be carried out along the western dyke network in Ca Mau Province.
On the same day, President Sang visited the radar station which monitors the international fly zone from Malaysia, Thailand, China and Myanmar. The station fulfills its task of defending territorial space under the country's national sovereignty.