State President Truong Tan Sang and central delegation visited and worked at Artillery Brigade 75 in Dong Nai province, Gia Dinh Regiment and High Command of military Zone 7 on April 28 on occasion of celebrating the 39th anniversary of Reunification Day.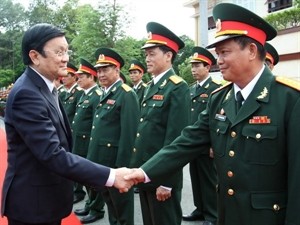 President Truong Tan Sang visits the Military Zone 7 High Command in Ho Chi Minh City (Photo: VNA)
President Truong Tan Sang praised High Command of Military Zone 7 and relevant units with their contributions to the national reunification. President Sang congratulated units in their task accomplishment over last years.
President Sang emphasized that Military Zone 7 is one of the largest economic major areas of the country.
In charge of the country's largest economic hub, Military Zone 7 faces challenges in preventing crimes and ensuring political stability and security, he said.
The unit has well organized defence exercises under the instruction of the Ministry of National Defence while effectively implementing mass mobilisation and foreign relations work, he added.
Mentioning the current regional and international context, President Sang said the unit should foresee factors that could cause instabilities, conflicts or spark more crimes and economic difficulties in order to make prompt responses.
He urged the zone to join hands with relevant localities to soon complete a border patrol route, thus firmly protecting the national border sovereignty.
In the related new, to celebrate the 39th anniversary of Reunification Day on April 30 and the 128th anniversary of the international Labor on May 1, some provinces across the country held many meaningful solemn activities.
Particularly, Department of Culture, Sports and Tourism of Gai Lai province opened a photograph exhibition with the theme of Vietnam's island.
Exhibition displays 120 documents, photos on Vietnam's island, aims to affirm Vietnam's sovereignty for Paracel, Spratly Islands. The exhibition will run until May 4.