State President Nguyen Minh Triet has called on Can Tho city to tap all its strengths to emerge as a driving force for the entire Mekong Delta to further develop.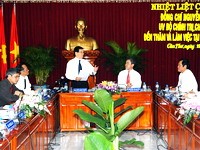 The meeting between President Nguyen Minh Triet and Can Tho City's leaders takes place on Dec 19
The city should have an all-round development master-plan on economics, culture, education, healthcare and human resources in the interest of itself and the Mekong Delta as a whole, the State leader told municipal authorities during his visit on December 19.

He also emphasized the public role in tightening public order and social security.

Can Tho is among the fast growing localities with this year's GDP growth estimated at 16.27 percent and per-capita annual incomes at US$1,122, up by US$142 over the previous year.

The national rice bowl has also been taking huge leaps in industrialization and modernization.

Earlier in the day, President Triet paid a working visit to the Southwestern Region Steering Board on socio-economic development and security in the Khmer ethnic minority community. He also visited the Can Tho police and the Command of Military Zone 9 on the occasion of the 63 rd founding anniversary of the Viet Nam People's Army.