State President Truong Tan Sang paid a special visit to Phu Quoc Island in the southern province of Kien Giang on April 28 and 29.
On the occasion of National Reunification Day, April 30, the President wished the people of the region a new found success.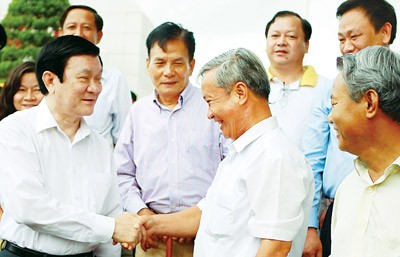 State President Truong Tan Sang (L) meets with people of Phu Quoc Island.
In the past, the people of Phu Quoc had contributed a great deal to the revolutionary cause during the two wars against French colonialists and US imperialists.
President Sang praised the efforts made by the leaders and people of Phu Quoc in creating a new rural model and said he believed that the district will make many more great achievements in the future.
The President said he hopes that local people will further uphold the glory of their great contribution in the nation's struggle against foreign invaders, and that officials and people of this area will take the initiative and apply new technologies in farming and combine production with trade and services. Thus creating new rural models, and achieving good results in improving their living conditions significantly.
He asked the local authorities to pay more attention to the families under policy benefits, while helping the local people to raise productivity.
President Sang also surveyed the ongoing work on the historical relics of the prison of Vietnam revolutionaries and the preparatory work of the project aimed at turning Phu Quoc into a special administrative - economic unit run by the central government.
On the previous day, President Sang had paid a visit and laid wreaths of flowers in tribute to martyrs at the Phu Quoc Martyrs' Cemetery.