President Nguyen Minh Triet re-affirmed on December 10 that the working class are at the heart of Viet Nam 's construction and development.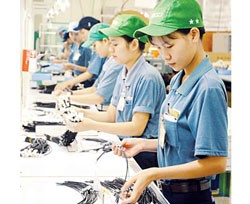 Workers of Nissei Company in the Linh Trung Export Processing Zone, Ho Chi Minh City (Photo: Viet Dung)
The working class had played a great role in the struggle for national liberation and were at the core of building and developing the country now and would be in the future, he said.  
The President was speaking at a two-day seminar titled "Building and developing the Vietnamese working class in international economic integration – the reality of the Quang Ninh coal mining region."  
The seminar, in Quang Ninh city in the northern Quang Ninh province, was organized by the province's Communist Party Committee and the Viet Nam Coal Minerals Group.  
The President asked the seminar to combine theory with reality to answer the problems that now faced the working class.  
The participants should decide how to build a strong working class, assure the working class of its historical mission and offer ways to improve workers' living standards, he said.  
The participants affirmed the role of Viet Nam 's workers in doi moi (renewal) and international economic integration.  
They also discussed ways to assure worker rights and benefits and the role of the trade unions and political and social organizations in the development of the working class.