For several years now, three steel plants in Dien Nam Dong Commune of Dien Ban District in the central province of Quang Nam, in close proximity of residential areas, have been billowing thick dense smoke and pollutants along with contaminating the water resource of the area.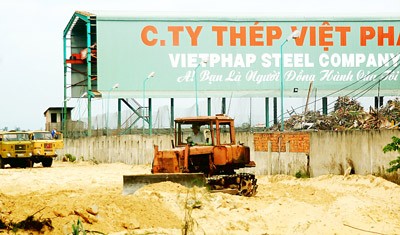 A bulldozer burying waste from the Viet Phap Steel plant near a residential area in Dien Tam Nong Commune, Dien Ban District, Quang Nam Province (Photo: SGGP)
Tran Van Tuan from Hamlet 7A, where the three plants are located, said that from 7 pm every day, when local people have dinner after a hard day's work, the Huynh Nguyen, Vina-Nhat and Viet Phap plants begin operations throughout the night till early morning.
Tuan said they cannot sleep due to the noise from the plants, besides having to breathe black soot which also settles all over their houses in the hamlet.
All the three plants are part of the Thuong Tin 1 industrial zone. The Huynh Nguyen plant started operations in 2007, which began polluting the area and now the Vina-Nhat plant in 2010 and the Viet Phap plant the following year, only added to their woes.
Local people have sent repeated petitions to local authorities to resolve this issue, but the matter has gone unheeded.
 
Tran Van Long from the hamlet said that hundreds of households comprising of elderly and children are finding the smoke and noise unbearable. They have even gone to the plant authorities, asking them to do something about the pollution, but all pleas have gone on deaf ears.
 
Local people even called up officials of the Dien Ban District Police Department to help, but when the officials arrived, the plants refused to open their doors and continued to work as usual, Long said.
Thousands of tonnes of waste from the plants is being dumped near residential areas and is only sparsely covered with sand via bulldozers. This waste has leaked into the ground and polluted the well water.
"Water in my well used to be very pure and fresh, before the plants were set up, now it is a dirty yellow and muddy," said Long. The residents are forced to buy bottled water to cook and drink, but those who cannot afford it, have to drink the polluted water.
Tran Cau, chairman of the People's Committee in Dien Nam Dong Commune said that if he had the authority, he would never permit steel plants to operate in the area. However, district and provincial authorities have licensed them.
According to Nguyen Duc Choi, head of the department for economic and infrastructure development in Dien Ban District, officials that licensed the steel plants have retired, leaving behind a serious problem for local residents to cope with.