Nari, the eleventh cyclonic storm of the year, left a trail of destruction amounting to an estimated 1.5 trillion VND (71 million USD) in central coastal provinces. It killed five people, and injured 49.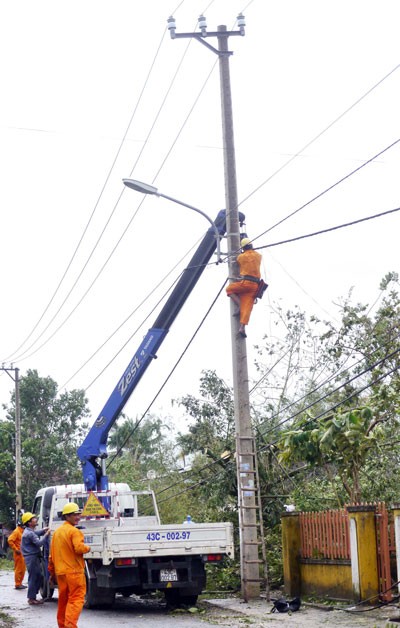 Da Nang Electricity Corporation repairs the damage aftermath of storm (Ng.Kh)
Central Da Nang city and Quang Nam province were heavily damaged by the storm, which hit the region two weeks after it was devastated by storm Wutip.
The Central Committee for Flood and Storm Prevention and Rescue said the storm wrecked more than 500 homes and damaged nearly 12,000 others in Thua Thien-Hue, Da Nang, Quang Nam and Quang Ngai.
More than 350ha of paddy fields and 3,284ha of crops were inundated, while 77 fishing vessels were sunk or damaged.
The storm also blew down 95 power poles, disconnecting many areas. It also washed away 104,000 cubic metres of soil from irrigation areas and many concrete roads.
Da Nang and Quang Nam were heavily damaged by the storm. Initial losses were reported to be about 1.1 trillion VND (52 million USD).
The central city reported that 40,000 street trees and 1,500ha of forest trees were rooted up. Many industrial plants in Quang Nam were severely damaged.
Deputy Prime Minister Nguyen Xuan Phuc on October 16 praised the well-prepared plans of provinces in limiting losses. "Provincial administrations took positive steps to deal with the storm. Damage was limited due to the preparations made in Quang Nam, Da Nang and the provinces of Thua Thien-Hue and Quang Ngai," Phuc said.
According to the Ministry of Industry and Trade, Electricity of Vietnam (EVN) has reconnected supply to 74 per cent of the region.
Rainfall of between 200-400mm was recorded from Quang Binh to Quang Ngai and the Central Highlands. This is expected to increase water levels in rivers from Nghe An to Quang Binh.
Water levels in the Gianh river in Quang Binh province has already risen to 8.5m, which may cause floods in lower areas.
The Central Committee for Flood and Storm Prevention and Rescue reports that 13 out of 57 reservoirs from Quang Binh to Quang Nam and from Kon Tum to Dak Nong have overflown.
Twenty-eight reservoirs from Quang Binh to Binh Dinh are at risk of overflowing, while 13 run by hydro-power plants have been discharging the overflow.
The Ministry of Health has warned central provinces to prepare for outbreaks of trachoma, dengue fever and dermatitis that often occur after flooding.