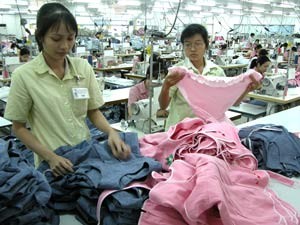 70% of the strikes have occurred in textile and garment manufactures. (Photo: Duc Thanh-SGGP)
The Ho Chi Minh City Industrial Park and Export Processing Zone Authority (Hepza) met yesterday with the directors of foreign-invested companies whose employees have gone on strike this year.
Most of the bosses said they complied with Viet Nam's laws and took good care of their workers, and complained that there were often some bad people distributing leaflets calling for employees to strike.
As the labor regulations for foreign-invested enterprises have not been finalized, the directors asked Hepza to issue its own set of rules on the rights and obligations of employees.
Hepza chief Vu Van Hoa responded by suggesting the directors examine their employee policies, make their payrolls transparent, and pay social and health insurance for their workers.
Strikes have occurred at 33 factories in the city's industrial zones this year. Textile and garment manufacturers have been the worst affected and accounted for 70% of the total.