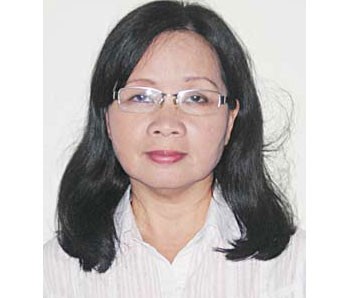 Le Thi Xuan Lan, deputy head of the Southern Meteorology and Hydrology Forecasting Center (Photo:SGGP)
It is unusual for two tropical storms to form in the same region at the same time, tropical storms Chanhom, the year's first, and Kajuri formed off the Philippines, 300 kilometers from Luzon Island, said Le Thi Xuan Lan, deputy head of the Southern Meteorology and Hydrology Forecasting Center.
As central Vietnam is suffering hot weather with high sea temperatures of 27 – 29 degrees celcius, the storms could intensify to typhoon levels.
Kajuri is generating winds of up to 30 kilometers per hour and force 13 gusts. It is stronger than Chanhom, which has swerved northwest and is heading for the Philippines. Kajuri is forecast to see wind speeds increase 50 percent over the next few days.
Chanhom is also expected to increase in strength over the next four days before it hits Luzon Island, 310 kilometers south off Hoang Sa (Paracel) Islands.
Coastal regions from the central province of Quang Ngai to Ninh Thuan will experience rough seas with winds gusting to categories seven to 12. The East Sea, including Hoang Sa and the north part of Truong Sa (Spratly) Islands, is likely to suffer gusts of up to force 10, causing five to seven meters high waves.
Strong winds have already brought heavy thunder storms to several coastal parts of southern Vietnam.
 
The Central Steering Committee for Flood Control and Prevention issued an emergency directive Wednesday to relevant coastal authorities to keep in close contact with all offshore fishing vessels.
The Steering Committee urged central provinces to quickly ensure that vessels take shelter, particularly fishing boats around Hoang Sa and Truong Sa. Authorities have forced ship owners to anchor or move boats to safety.
The committee said nearly 58,000 people are working out to sea, with nearly 3,000 in the storm's path.
Head of the committee, Cao Duc Phat worried that fishermen may face difficulties in finding shelter.