At the 'Love Festival' in the central highland city of Da Lat, 50 student couples donated blood to celebrate Valentine's Day on Sunday.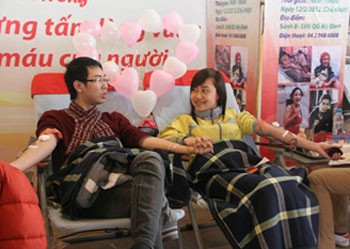 Student couples donated blood at the Pink Spring Festival in Hanoi on February 12 (Photo: VTC News)
The event was also marked by various activities like a musical programme and a racing competition that attracted almost 2,000 visitors, most of them being young lovers.
Donating blood is part of the festival, which was hosted by the Lam Dong Province Department of Health, the Red Cross Association, the Da Lat City Committee of Ho Chi Minh Communist Youth Union and the universities in the city.
In related news, the blood donation event at the annual Pink Spring Festival 2012 took place at My Dinh National Stadium in Hanoi on the same day.
Vice President Nguyen Thi Doan beat the drum to mark the opening of the festival, organised by the National Institute of Hematology and Blood Transfusion and the Hanoi Steering Committee of Blood Donation Mobilisation.
It is expected that over 25,000 people will attend the event and at least 10,000 of them will register to donate blood, amounting to 6,000 units of blood.