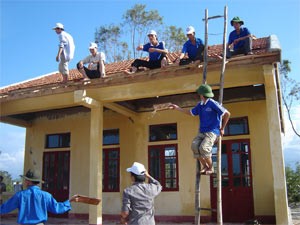 Volunteers roof a damaged house near Hue
As many as 200 young volunteers and doctors from Ho Chi Minh City Youth Union arrived in the central coastal provinces on Wednesday to help ease the hardship resulted from the recent giant storm.
Half of the group stayed in temporary clinics to provide medicines, hoping to prevent an epidemic caused by contaminated water.

The second half was sent to the damaged areas to help the locals rebuild schools, houses ruined in the disaster.
The medical clinic was held in torn Loc Vinh village, also one of the poorest of Hue for a long time. Thousands of villagers lined up in order at the small yard of the medical center to get health examination and free medicines from the doctors.
Ms Nguyen Thi Chau, whose husband was injured by the fatal winds, said that she was so moved with the arrival of the doctors. "You have brought great comfort to people in the village", she said.
In the nearby area, lots of youthful volunteers were helping people roof lots of razed houses. All seemed so enthusiastic with their work despite the uncomfortable weather in the region.
It is expected that nearly 100 damaged houses will be roofed and rebuilt in 2 days.
Vo Minh Chau, one young member of the volunteer group, said he was as happy as he could lend his hand to ease the pain of villagers whose lives and livelihoods were severely disrupted.