Five hundred out of 827 candidates were elected to the 13th National Assembly during May 22 polls.
Speaking at a press conference in Ha Noi yesterday, Nguyen Duc Kien, vice chairman of the 12th National Assembly and a member of the National Election Council, said that 61,965,651 voters, accounting for 99.51 per cent of eligible voters, attended polls to elect representatives to the National Assembly and local People's Councils. "The high turnout is evidence of the people's political awareness, high sense of responsibility and confidence in the leadership of the Party and Government," Kien said.
He added that among the 500 successful candidates, 167 (33.4 per cent) were introduced by the central agencies and 333 (66.60 per cent) were working and living in localities.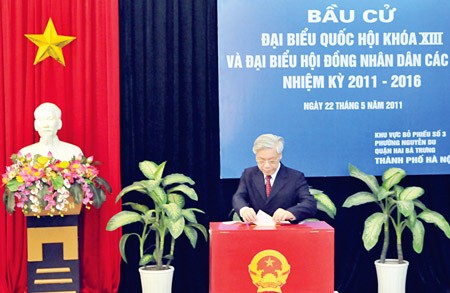 Communist Party of Vietnam General Secretary Nguyen Phu Trong casts a ballot at a polling station No. 3 at the Nguyen Du ward of the Hai Ba Trung precinct, Hanoi
Among the candidates, 333 were elected for the first time, 229 were university post graduates, 262 were university graduates, 78 were from ethnic minority groups, 122 were women, 42 were non-party members, 62 were aged under 40 and four were independent candidates, the conference was told.
The number of successful provincial People's Council candidates came to 3,821 (a shortage of eight) while 21,077 were successful at district People's Councils (a shortage of 47) and 278,758 at communal People's Councils (a shortage of 2,962).
According to Pham Minh Tuyen, secretary general of the National Election Council, elections took place in accordance with the law. A district People's Council of Ha Noi had to undergo re-election together with the communal People's Councils of nine electoral units in the four provinces of Thanh Hoa (3); Nghe An (3), Ha Noi (2) and Binh Thuan (1).
Tuyen said that 14 district People's Councils in the six provinces of Binh Thuan (4); Dak Lak (3), Quang Ngai (3); Quang Nam (2) Bac Kan and Dak Nong (1) had to undergo re-election.
Regarding communal People's Councils, Tuyen said nine constituencies in Thanh Hoa, Nghe An, Ha Noi and Binh Thuan had to re-organise their elections while 483 electoral units in 22 provinces had to vote for additional candidates.
Party General Secretary and Chairman of the current National Assembly Nguyen Phu Trong was re-elected with 85.63 per cent of the votes in Constituency 1 in the capital Ha Noi.
Prime Minister Nguyen Tan Dung won 95.38 per cent of the votes in Constituency 3 in the northern port city of Hai Phong.
Deputy Prime Minister Nguyen Sinh Hung won 95.51 per cent of the votes in Constituency 1 in the central province of Ha Tinh.
Permanent member of the Party Central Committee's Secretariat Truong Tan Sang won 80.19 per cent of the votes in Constituency 1 in Ho Chi Minh City.
Vice President Nguyen Thi Doan and the three Vice Chairmen of the 12th National Assembly, Uong Chu Luu, Huynh Ngoc Son and Tong Thi Phong, were re-elected.
Among the successful candidates were 12 ministers including Le Hong Anh, Minister of Public Security; Phung Quang Thanh, minister of Defence, Nguyen Xuan Phuc, minister and director of the Government Office; Hoang Tuan Anh, minister of Culture, Sports and Tourism; Ha Hung Cuong, minister of Justice; Nguyen Van Giau, governor of the State Bank of Viet Nam; Vu Huy Hoang, minister of Trade and Industry; Pham Vu Luan, minister of Education and Training; Vu Van Ninh, minister of Finance; Cao Duc Phat, minister of Agricultural and Rural Development; Giang Seo Phu, chairman of the Nationality Council; and Nguyen Thi Kim Ngan, minister of Labour, Invalids and Social Affairs.