Northern Vietnam's power grid blacked out on Wednesday afternoon for half an hour due to technical problems.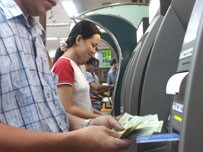 Customers could not make any transactions with ATMs when the power fails

Traffic lights were out leaving densely populated areas in gridlock. The power failure also brought work at many businesses to a standstill. Bank customers wanting cash from ATMs were unable to make any transactions.

According to the Northern Airport Authority, airports were not affected thanks to their backup generators.

Mobile network was also affected, but only for 2-5 minutes while backup power sources were put into play.

Mr. Dang Huy Cuong, Director of the National Power Supply Center, said the center is working to find the causes of the problem.