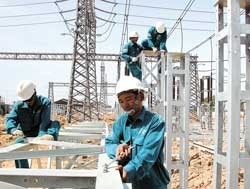 Workers build electricity facilities in Viet Nam (Photo: SGGP)
Electricity Construction Company 2 and the Project Management Unit for Southern Electricity Facilities started installing a 500-kilo voltage power line across the Tien River between Tien Giang and Vinh Long provinces on March 7, 2006.
The power line is part of southern Viet Nam's 500KV power grid that will connect power stations from Ho Chi Minh City to Can Tho City in the Mekong Delta, including the 500KV O Mon Station in Can Tho.
At the cost of over VND1,537 billion, the grid is planned to transmit electricity generated in the delta to the national grid. In the first phase - 77.4 kilometers of cables will be built linking Tien Giang's Cai Lay District to O Mon, scheduled to provide electricity for the area by the end of this month.
The second phase is due to complete next year.