Many suspension bridges in Dien Bien Province have raised alarm for the residents after the collapse of Chu Va Suspension Bridge in Lai Chau Province.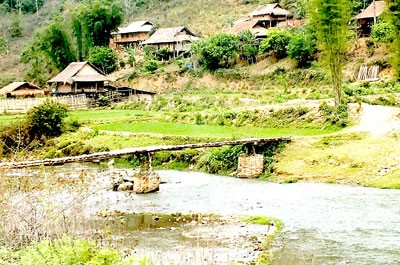 A temporary bamboo bridge in Dien Bien province which may be swept away during flood season  (Photo: SGGP)
The province is covered with rough and dangerous river terrain making a necessity for commuters to use bridges for travel. Students in Sam Lang Village must be pulled in plastic bags on their way to school.
Villagers in remote areas face dangerous river crossings every day during commute.
Dien Bien Province has 125 suspension bridges, with 21 that can carry cars while 104 are for pedestrians and motorbikes only, according to the Department of Transport. Dien Bien Phu Town has six suspension bridges, which three are now unsafe for use due to rust.
Seventeen of the bridges in the province are extremely worn out because they were built 20 years ago, said Chairman of People's Committee in Tuan Giao District Lo Van Hoan.
People in Nam Po District commute on dangerous bamboo bridges that are extremely unsafe and slippery during the flood season, said Nguyen Van Thai, district chairman.
Teachers, students, and transportation staff have been swept into the river during dangerous crossings in remote areas, said Nghiem Quang Thuc, deputy head of the Department of Transport of Dien Bien Province.
Village leaders complained that shortage of finance is setback for repairing bridges in the province.
The transportation budget in Dien Bien is VND 20 billion per year for road repairs, said Thuc. It costs VND 3-5 billion to build a suspension bridge. The fund must be appropriately assigned.
Tt is good news that the Ministry of Transport decided to provide money for building suspension bridges in Sam Lang.