Street vendors have been selling unmarked sweets in vulnerable areas like schools and children's parks in Vietnam, without any health authority ever checking the quality of sweets sold to young children.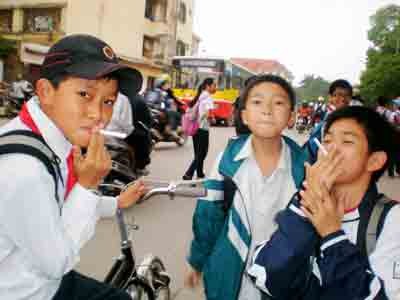 Secondary school children trying out cigarette-shaped sweets from street vendors in their campus (Photo: SGGP)
Lately a new cigarette-shaped sweet with dubious origins is selling at street vendors.  It sells for VND1, 500 and the sweet packet has a Chinese script on it.

Since it is shaped like a cigarette, one gets the impression that young students are actually 'smoking', but in fact, they are eating this suspected toxic sweet.
 
Parents first saw the sweet in the northern provinces of Lang Son, Lao Cai, Yen Bai, Hai Phong and Hanoi ten-fifteen years ago. It sold like hot cakes in school campuses so traders began selling it in central and southern provinces as well.
Later the sweet was banned in Vietnam so it was smuggled from China into the country.
Parents worry as to the content of the sweet, whether it contains any toxic chemical substances because no health agency has yet determined it safe to eat. Moreover, eating cigarette-shaped sweets could influence young children into the unhealthy smoking habit.