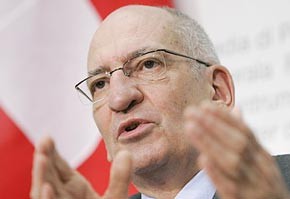 Swiss President Pascal Couchepin
Swiss President Pascal Couchepin, who arrived in Ha Noi Sunday on a four-day official visit at the invitation of Vietnamese President Nguyen Minh Triet, spoke of the priority his government attaches to strengthening relations between the two countries.
"We want to continue to support Viet Nam's economic transition with initiatives in agriculture, higher education, environment and public administration reforms," he said in an interview with the Viet Nam News Agency.
As the first Swiss head of state to visit Viet Nam, he lauded the Vietnamese Government's reforms made since the beginning of doi moi (renewal) in 1986.
The Swiss President said the main aim of his upcoming visit is to assess the actual situation and explore future avenues of potential cooperation between the two countries.
During his Viet Nam visit, the president will witness the signing of a cooperation agreement by the Institute of Technology from Lausanne and the University of Technology of Ho Chi Minh City and the other by University of Geneva and the Ha Noi National University.
Regarding economic ties between the two countries, the Swiss President said he was "very positive about the future development, be it in trade or investment".
By 2007, Switzerland invested more than US$720 million into 46 business projects in Viet Nam.