Prime Minister Nguyen Tan Dung has urged ministries and localities to implement synchronous support measures to remove difficulties for businesses, especially small and medium-sized ones, and boost their growth.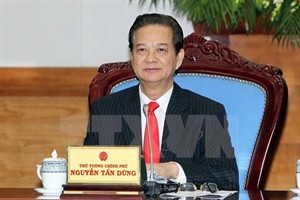 PM Nguyen Tan Dung at the regular meeting on Jan.30 (Photo: VNA)
Addressing the Government regular meeting on January 30, the Cabinet leader asked ministers to make more efforts in simplifying administrative procedure and improve business environment, focusing on the areas of tax, customs, land use, business registration and power access.
At the same time, it is crucial to step up the restructuring of State-owned enterprises, public investment and credit organisations, while bringing bad debts to below 3 percent and maintaining a stable exchange rate.
He noted that the plunge in world oil prices is an emerging problem that calls for cautious handling and measures in order to minimize its impacts on economic growth, adding that all targets for the year should be maintained, particularly the goals of 6.2 percent GDP growth, budget collections and spending and an inflation rate of 5 percent.
On the new-style rural area building programme, the PM said with the progress so far, the goal of having 20 percent of communes nationwide fulfilling all criteria in 2015 and 50 percent by 2020 is quite feasible. He asked the Finance Ministry to search for more resources for the programme.
The government leader also requested ministries and localities to continue efforts to improve the quality of health care, cultural and educational services.
He required close coordination among ministries and localities in managing prices and ensuring goods supply during the upcoming Lunar New Year (Tet) festival, while strictly dealing with trade fraud and speculation.
Further endeavours are also needed to ensure social welfares policies are fully implemented, better taking care of the poor, welfare beneficiaries, and people in remote and mountainous areas during the festival, he urged.
PM Dung also emphasised it is important to continue strengthening defence and security to firmly safeguard the national sovereignty as well as ensure social order and safety during Tet.