Lying 160 km from Ha Noi, Lang Son province has long been notorious as a gateway for smugglers to sneak goods in untaxed from China. Pursuing the scene, Sai Gon Giai Phong witnessed seriously slack customs procedures and probably corruption.
A train leaving Lang Son's Dong Dang for Ha Noi is 30 minutes late. The delay is understandable when one sees the huge amounts of cargo on board, which later turn out to be in the process of being smuggled in from China.
Since the Class A compartments designed for transporting passengers are normally not inspected, most apparent contraband finds its way in there, stuffed into every nook and cranny, even inside toilets.
In the mid-class compartments, a huge hole in the carriage is seen, apparently torn out for sneaking goods in.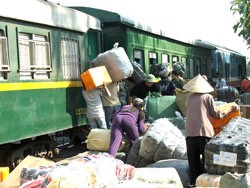 Loading smuggled goods onto the train
Ironically, the Class C compartments, normally used for cargos and thus open to inspectors, are generally empty.
When your intrepid reporter tried to photograph the scene, a burly bystander shouted "Get him! What the hell are you shooting?!?" A tussle was only prevented when police appeared.
It turns out the same man some time ago badly beat up a security officer for daring to try stop him from loading contraband on board.
When a train employee in the A-class compartments complained about the mess of other passengers' bags and asked for them to be rearranged, he was shouted down and had to leave.
"It's the daily fare [that railway staff must demur to smugglers]," he says, "There are too many of them."   
Nguyen Van Thai, head of the railway security said there are only three security staff for the whole train with dozens of compartments carrying hundreds of men hired to smuggle goods.
"They are very fierce and ready to fight back. So we have to give in", Thai lamented.
According to train captain Tran Van Du, one railway employee was badly beaten and had to quit after he tried to stop some smuggling.
The scramble on board quickly gives way to vacant seats and aisles as the train pulls into its last stop, Gia Lam station in Ha Noi. The goods and their couriers got off at Lim station, 40km before Ha Noi.
Seeing your dogged correspondent is the sole commuter left on board, Du wryly remarks, "Only you, huh? If this goes on the railway will soon serve only smugglers".
Lang Son, gateway to 'free' trade
It turns out most contraband is smuggled in via Lang Son province on the border with China, where it is said 70 percent of goods escape tariffs.
Pretending to be a vagabond ready to do anything for money, your sly scribe accompanied one "Mrs. Phen", over 70 years old, to China to help her smuggle goods into Lang Son.
Spry for her age, Phen boasts she can do a dozen round trips per day carrying goods across the border.
For her troubles, Phen says she earns VND4,000 (25 cents) each time she lugs 'cargo' cross-border into Lang Son's Hang Doi region, a notorious haven for smugglers. Per day, she earns nearly VND100,000, several times what she would normally make farming.
Over high mountains, across Lang Son's Dong Dang Town or the notorious Hang Doi Region in Van Lang district, Phen leads the way, sometimes checking up on your apparently unimposing correspondent to see if he's being "bullied by others or not."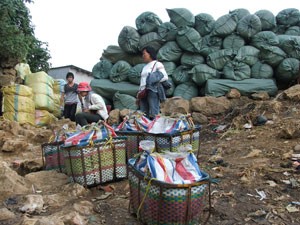 Lugging goods across mountains
Upon entering Chinese territory, a fair walk away, we reach a market where everything is available, from readymade clothes, stockings, children toys, electronics and medicine to spare motorbike parts, most much cheaper than in Viet Nam.
Atop a mountain, we're almost deafened by voices on loudspeakers used to shout above the bustle that screams out its contrast to the calmness of slopes just below.
To avoid detection, smugglers chose the Thau mountain village near the border as a "transit point" to hide their trafficking.
Upon the situation looks safe, hundreds of people gather to carry their contraband deep inside the Tan Thanh Border Gate Economic Zone, said one Mr. Thanh, a motorbike taxi driver (xe om).
At the zone's Gate A, several customs officers and border soldiers stand watch, but apparently just for show.
On days the guards are grumpy, they shake their heads, meaning the wares have to wait. On days they're happy, they nod, implying the goods can go straight away.
In just 15 minutes of watching, yours truly heard one woman's voice resounding "Hey Thai and Hung [apparently the names of two customs officials], let me go through." Then she stuffs what looks like a wad of VND20,000 or VND50,000 notes into one of the officers' hands.
Now disguised as a traveler on a 7-seat bus to Lang Son town, your incognito correspondent passes through the Doc Quyt Inspection Post on National Highway 1A.
Staff at this check post are seen writing on paper slips some numbers like 0,8, 1,0, 0,5 or 0,7. Later, we learn the numbers represent the money cargo transporters must bribe the officers.
"0,5" represents VND50,000 (US$3.1), "0,7" means VND70,000 and, for goods inspectors suspect are valuable, "1,0" means VND100,000.
After such "checks", the mules are let into a small room where they pay their bribes and their documents get stamped.
When your risqué reporter tries to snap a pic' of an officer having just received a VND50,000 note, a man in police uniform immediately shouts, "Hey, what are you doing?!?".
A flash of a press pass and the officer falters and cups a hand over his name tag, which read "Second Lieutenant Quang Dong".
This officer invites your clearly chuffed correspondent into a room where we're warmly by the inspection post's chief, Trieu Van Thang.
Casually, in a very friendly sort of way, Thang claims all the money changing hands just a few moments ago was just "VAT tax" collected, on its way to state budgets.
But Thang dodges any question about invoices.
Mission impossible?
When asked what paperwork is needed to clear cargo at customs, Tan Thanh Customs Office Deputy Head Xuyen Mai Van Xuyen of the Tan Thanh Border Gate Economic Zone refuses to answer on the grounds that "provincial customs directors have not given me permission to talk with journalists".
When asked about some officers letting goods go through untaxed, Xuyen laughs it off, adding that "those must be wares brought in from China".
According Doc Quyt Inspection Post Head Trieu Van Thang, anti-smuggling resource here are comprised of officers from customs, market regulators, tax officers, economic, criminal and traffic police, and border soldiers, too, all regularly patrolling the area.
"All goods entering through the post must be declared and taxed", Thang states resolutely.
When asked what "0,5" and "0,7" mean, Thang vaguely responds that "they must have been written just for recording's sake. All the money [changing hands inside the closed room] is for taxes". What gets smuggled, he adds, are mostly just chickens and pigs.
But even he admits, "Smuggling is very difficult to stamp out. We only try to limit it, not eradicate it."