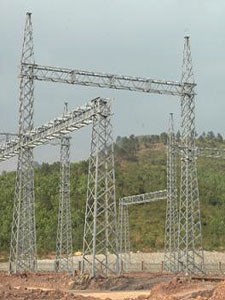 An electricity transmission station under construction in Quang Ninh
The country will confront a power shortfall of 2,000 megawatts per day, or about 10 percent of requirements, for several days beginning Thursday, according to the Electricity of Viet Nam Group.
Some power grids will not receive electricity bought from China from Aug. 28 to 31, when workers will set up a 500,000 volt transmission line from Ha Noi to Quang Ninh Province, according to the group.
For this period, the national entire power grid can supply an estimated 10,200 megawatts per day, 10 percent lower than average need, although many hydropower plants have been operating at full capacity since early this month, according to the power group.