As many as 10 Ton Duc Thang Prize winners were awarded in Ho Chi Minh City Hall Saturday for outstanding work performance.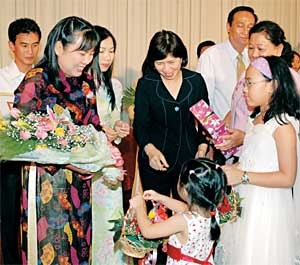 Relatives and friends congratulate Ms. Nguyen Thi Huyen Trang (L), one of the prize winners at the award ceremony.
The ten winners are major contributors in the development of the enterprises, enhancing the products' quality in a bid to help workers and better satisfy domestic and foreign markets.
Their initiatives have helped improve the business competitiveness, strengthening the links between working and creativity.
Over 500 participants learned practical experience with four of the winners, whose initiatives have been proved useful in their own companies.
On behalf of the Ho Chi Minh City (HCMC) People's Committee, Vice Chairman Nguyen Thanh Tai highly appreciated the honored individuals and call for more creation of future workers.
High-skilled workers will play the key role in the industrialization and modernization process and international cooperation, he added.

The 6th Ton Duc Thang Prize was jointly held to welcome the 118th birthday anniversary of the late President by the HCMC People's Committee, the HCMC Labor Union and the Sai Gon Giai Phong.

Mr. Ton Duc Thang was President of Viet Nam from 1969 until his death in 1980.