The first delegation from the new U.S Congress has just wrapped up its visit to Viet Nam after constructive discussions on many aspects of the overall bilateral relationship, including security and MIA cooperation as well as economic and trade ties.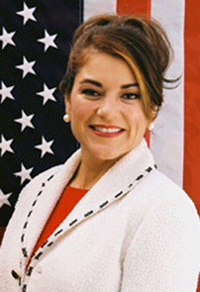 US congresswoman Loretta Sanchez

According to Ton Nu Thi Ninh, Vice-chair of the National Assembly Foreign Affairs Committee, the visit was a practical step in implementing the joint undertaking adopted a year ago by Vietnamese National Assembly Chairman and the U.S Congress Speaker to foster contacts and interaction between American and Vietnamese lawmakers in the interest of the expanding and deepening relationship between the two countries.

Congresswoman Loretta Sanchez – one of the four members of the delegation, however, intentionally played the wrong tone with a number of inappropriate words and activities during her stay in Viet Nam . A local police source said Sanchez's visit had been carefully planned by a terrorist group.

"Viet Tan," a terrorist organization of reactionaries in exiles under the cover of promoting dmocracy, worked out a plot to use the Congresswoman's visit to ignite a campaign to sabotage the country.

The precursor of "Viet Tan" was the National United Front for the Liberation of Viet Nam, founded by Hoang Co Minh in April 1980 in southern California , which later renamed itself. Its main target is the abolishment the people's socialist State of Viet Nam .

The group arranged for one of its hard-core members, Ta Ngoc Khoi, to join the delegation as Sanchez's interpreter, but failed since Viet Nam 's diplomatic representative agency in the U.S refused to grant Khoi an entry visa.

But "Viet Tan" was still successful in persuading Congresswoman Sanchez to put pressure on the U.S Ambassador Michael Marine for a meeting with relatives of several extremists in the country who had been arrested, such as Pham Hong Son, Nguyen Vu Binh, Le Thi Cong Nhan, Nguyen Van Dai and Le Quoc Quan. They even intended to transfer 4,000 USD, with Sanchez's help, to hire lawyers for Le Quoc Quan, Nguyen Van Dai, Le Thi Cong Nhan and Tran Thuy Trang.

If the plan were carried out as scheduled, "Viet Tan" would have made their cause public to promote their status.
An after-visit press conference in Orange County , California , where many overseas Vietnamese are now living, for Sanchez to say negative statements regarding Viet Nam is also part of the agenda.

The freshly-ended Viet Nam visit by Congresswoman Loretta Sanchez was an obvious setup by the terrorist group "Viet Tan." Her ill-willed activities – though perhaps under the influence of those who are hostile with Viet Nam's renovation and building of a peaceful society for the Vietnamese people, are totally against the progress achieved in the ever increasing close ties between Viet Nam and the U.S.