Prime Minister Nguyen Tan Dung called on the country's largest textile group and the industry association to join forces to overcome the recession.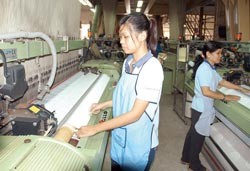 The production floor at Gia Đinh Textile & Garment Corporation which makes curtain cloth. The garment and textile industry has set itself targets of $25 billion worth exports and providing five million jobs by 2020. (Photo: SGGP)
At a meeting top Government leaders held with executives of the Vietnam National Textile Garment Group (VINATEX) Vietnam Textile and Apparel Association (VITAS) February 23, he said the move is required for the industry to maintain production, export, and jobs.
The meeting was also attended by Deputy Prime Ministers Nguyen Sinh Hung, Truong Vinh Trong, and Hoang Trung Hai, ministers, and officials.
Mr. Dung said textile companies should focus on goals and specific measures to boost exports and domestic consumption to create more jobs.
He called on Vinatex to follow the strategies approved by the Government to achieve exports of $25 billion by 2020 and provide five million jobs.
Le Quoc An, chairman of Vinatex and Vitas, said in spite of the global economic downturn, Vietnam's textile and garment exports were worth $9.1 billion last year, 17 percent higher than in 2007.
Attendees agreed that exports and job creation are the textile and garment industry's major advantage.
Vietnam is the 10th largest garment exporter with the industry providing around two million jobs, much higher than any other industry.
Thus, policies supporting trade promotion and job creation are imperative at a time when the world is going through a recession, they said.