Some of Thailand's top journalists visited the office of Sai Gon Giai Phong on Saturday.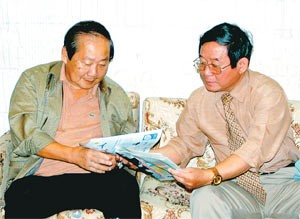 Mr Duong Trong Dat - Chief of SGGP introduces SGGP publishment to Thai Journalist
Delegation chief Mr. B. Rajavatanadhanin, who is honorary chairman of both the Confederation of ASEAN Journalists and the Confederation of Thai Journalists, said he was pleased with the way journalism was growing in Viet Nam, particularly in Ho Chi Minh City.
Mr. Duong Trong Dat, editor-in-chief of Sai Gon Giai Phong, expressed the hope that Vietnamese reporters would learn much from their future training in Thailand and that the journalism ties between the two countries would rise to new heights in the years ahead.
It was the third stop in Viet Nam for the Thai journalists, who have also been to Can Tho and Vinh Long in the Mekong Delta and talked with the local authorities and media people.
Their next port of call is Tuoi Tre newspaper, also in Ho Chi Minh City, after which they will head for Vung Tau on the coast and wind up their Viet Nam excursion on Monday.