At the invitation of Viet Nam's Prime Minister Nguyen Tan Dung, Prime Minister of Thailand Surayud Chulanont will pay an official visit to Viet Nam on October 26, announced the Vietnamese Ministry of Foreign Affairs on Monday.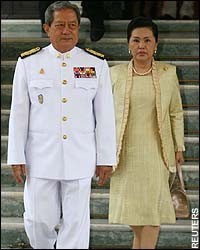 Thai PM Surayud Chulanont and his wife (Photo: Reuters)

General Surayud Chulanont was a former Thai military officer, Army Commander, Supreme Commander, and Privy Councilor to King Bhumibol Adulyadej.

He was appointed Premier on October 1st, 2006 by Sonthi Boonyaratkalin, the head of a military junta that had overthrown the elected government of Thaksin Shinawatra less than 2 weeks earlier.

Viet Nam and Thailand have so far signed about 30 pacts and cooperation agreements.

During the past 30 years, the two countries have cooperated in political, security, and economic fields as well as in education, science and technology and tourism.