Cha gio, literally meaning "minced pork rolls", a popular Vietnamese dish, used to be widely served as appetizers by restaurants in Poland in the 1990s.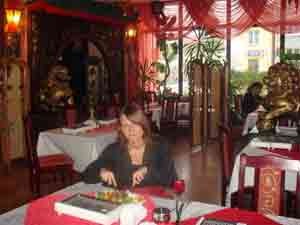 Ms. Beata enjoys Saigonki in a Vietnamese restaurant in Poland
The decade was probably the golden period for Vietnamese food in Poland. In Warsaw alone there were over 300 small and big Vietnamese restaurants, open 24 hours a day.

As cha gio was a favorite dish not only among Vietnamese expatriates and locals but also foreign tourists, no one remembers how many rolls were made and served by the restaurants daily.

"The Poles call cha gio Saigonki," explains D., owner of the Lotus restaurant in Poland.

"Each dish must have a name. When I first started my restaurant, a regular customer, a senior Polish journalist, ordered cha gio and swore it was a traditional southern Vietnamese dish. He said he was in Saigon in 1954 when Poland was a member of the International Committee for Cease- Fire Supervision and had a chance to enjoy the specialty at a restaurant in the heart of the city.

"The suffix 'ki' in Polish is a plural."

Travel guidebooks printed in English at that time in Poland would ask: "Want to enjoy Asian foods? Visit Vietnamese fast food bars in Konstytucji square where you can have delicious Saigonki."

Vietnamese expatriates felt very proud that their fried pastry was used by the Polish tourism industry to attract tourists from around the world.

Even some of Warsaw's most popular and established Chinese restaurants were forced to put Saigonki on their menu.

Saigonki fell from grace along with Vietnamese restaurants after the lid was blown of a sensational scandal early this decade. Authorities found some Vietnamese bar owners surreptitiously trapping pigeons and wild ducks and keeping them in cages. The birds were used to feed dogs whose meat was then used to make a certain kind of cha gio for a number of Vietnamese clients.

The media got a whiff of this and people were furious. Though only some bars were involved in this, locals decided to boycott all "Wietmamska" (Vietnamese restaurants).

"Most Vietnamese restaurants had little choice but to close down. Locals switched to Turkish kebab sandwiches as a substitute for cha gio."

A few owners, however, decided to keep their restaurants open. Since summer last year some Vietnamese bars on Jana Pawla Street were renovated to provide a more comfortable environment and better services. Located in the basement of the Central Gas Station is the elegant and chic Saigon bar, which serves delicious Vietnamese food and Saigonki to customers whose palates cannot, after all, forget such tastes and flavors by diktat.

T.K., the man who has successfully reestablished the Van Binh chain of restaurants and bars in Warsaw, says: "Vietnamese restaurants are trying their best to prove they offer excellent service. I believe Saigonki can regain their position soon.

This summer well-known Vietnamese restaurant Rong Vang (Golden Dragon) in Szeaczin, a province on the German border, worked for several days straight after a German customer placed a large order for Saigonki.

Is the spring roll's redemption on hand?