A mission, led by the Minister of Natural Resources and Environment, Pham Khoi Nguyen, on May 11 held a meeting in Ho Chi Minh City after inspecting a newly installed wastewater treatment system at Vedan Vietnam, a Taiwanese MSG producer based in the southern province of Dong Nai.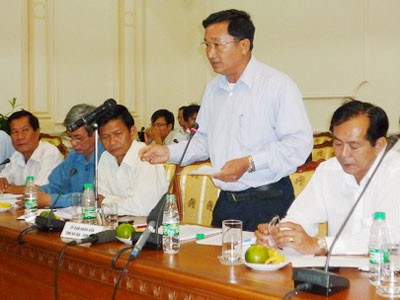 Tran Ngoc Thoi, deputy chairman of Ba Ria – Vung Tau Province, is speaking at the meeting on May 11 (Photo: TTO)
The officials also studied efforts to clean the Thi Vai River, after the factory was to found to have discharged untreated wastewater into the river for a long period.
Speaking at the meeting, a representative of Vedan said that it has carried out some measures to tackle environment pollution, including removing a hidden pipe system and building more wastewater treatment systems.
The company promised to pay the administrative fine and environmental protection fees it had previously evaded.
The minister appreciated Vedan's efforts, regretting that if the company had previously complied with regulations on environmental protection, it would not have lost its reputation.
According to the mission, the river is a little cleaner with Vedan having cut production and treating wastewater. However, 21 cesspits, covering 14 hectares, may yet overflow if it rains heavily.
Mr. Nguyen told the company to complete construction of its wastewater treatment system, to use modern technology and, under the local authority's supervision, warned other businesses in the country to adhere to environmental regulations.
Colonel Phan Huu Vinh, deputy head of the environmental police department of the Ministry of Public Security, required other companies in the central province of Ha Tinh, the highland province of Gia Lai and the southern province of Binh Phuoc, to act as Vedan has.
Residents living nearby the Thi Vai River told the mission that they suspected some companies still secretly release wastewater into the river, as it sometimes smells horrendous.
In response, the Ministry of Natural Resources and Environment ordered the local authority to maintain vigilance and monitor pollution levels.
To protect Thi Vai river, authorities have halted the issuing of business licenses to industrial parks along the river.
The minister highlighted other polluters, including the industrial zones of Nhon Trach 1 and 2, My Xuan, Go Dau, Phu My and Vedan.
With regard to compensation for farmers and fishermen, the minister said, "Any company causing economic loss and health problems to people must pay compensation."
The deputy head of the Department of Natural Resources and Environment in Dong Nai, Phan Van Linh, said that Taiwanese MSG producer agreed to pay direct and indirect support.
It will spend VND20 billion (US$1.1 million), including compensation of VND6 billion ($337,000) to farmers and fishermen in Ba Ria – Vung Tau Province.
Through indirect support, Vedan will set up a VND6 billion fund to help effected farmers and fishermen in Dong Nai and Ba Ria – Vung Tau provinces and Ho Chi Minh City by giving jobs training, encouraging their children to study and build infrastructure.
The deputy chairman of Ba Ria – Vung Tau Province, Tran Ngoc Thoi, claimed that such solutions are unsatisfactory. The company should compensate aquatic produce breeders and provide better support to fishermen
Col. Vinh proposed setting up a research team to estimate losses caused by the pollution.
Mr. Nguyen suggested farmers and Vedan should enter into negotiations, adding that any businesses that want to set up in Vietnam should help locals live decent lives.
Related article:
Ministry inspects Vedan's new treatment facility