The third Russian-built submarine, named HQ-184 Hai Phong entered Cam Ranh Bay in the central province of Khanh Hoa on Wednesday evening.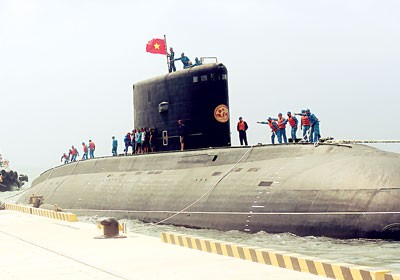 The second submarine, HQ-183 Ho Chi Minh Submarine (Photo:Sggp)
Functional departments will check technical measures and security before bringing the vessel to the naval base.
The submarine was built at Admiralty Verfi shipyard in St Petersburg in March, 2012 and given a trial run 18 months later.

The submarine has a load of 3,000 tons. It can operate at a maximum depth of 300 meters and at a speed of 20 nautical miles per hour with over 50 crew members. The vessel is equipped with many modern weapons on board.
This is the third of the six Kilo-class submarines Vietnam is purchasing from Russia under a contract signed in 2009.

The first submarine, HQ-182 Hanoi, was transported to Cam Ranh on December 31, 2013. The second submarine HQ-183 Ho Chi Minh was docked at Cam Ranh Port, Khanh Hoa Province on March 22, 2014.