The 14th National Assembly (NA) Standing Committee convened its third session this morning, discussing draft amendments to the laws on irrigation and railways.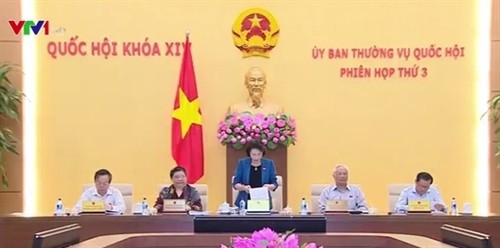 The third session of the 14th NA Standing Committee opens on September 12. — VNA/VNS Photo Trọng Đức
During the ten-day event, the committee will also offer opinions on the construction of draft laws on foreign trade management, the law on planning, the law on management and use of weapons, explosives and supporting tools, the law on asset auctions, the law on religion and beliefs, and the association law, said NA Chairwoman Nguyễn Thị Kim Ngân.
The agenda also includes preparations for the second session of the 14th National Assembly, which is slated for next month, and offers opinions on the issuance of the committee's resolution on regulations on making, verifying and submitting to the National Assembly for decisions of State budget estimates, central budget allocation plans and for approval of the State budget balance, which replaces Resolution No. 387/2003/NQ-UBTVQH11, she said.
The committee will further discuss a draft resolution on principles, criteria and norms for allocation of the State budget for frequent expenditures and a draft resolution on the amendments and supplements of some articles to Resolution No. 55/2010/QH12 on agricultural land use tax exemptions and reductions.
Additionally, they will provide opinions on reports delivered by the Chief Justice of the Supreme People's Court of Viet Nam, the Prosecutor General of the Supreme People's Procuracy and the Government's reports on fighting crime and violations of laws, law enforcement and corruption prevention and control.
The top legislator asked participants to actively contribute opinions to draft laws discussed at the session to help improve the effectiveness of building the nation's laws