Steering Committee 33, under the Ministry of Natural Resources and Environment, is responsible for all damage control measures in the aftermath of Agent Orange contamination caused by bombings by the US during the Vietnam War.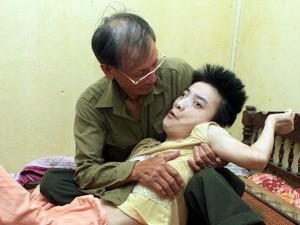 A dioxin victim in Thanh Hoa Province (Photo: VNA)
The Committee met in Hanoi on April 22 and stated that at present more than 200,000 Agent Orange (AO) victims are eligible for a monthly stipend under a special program.
Nearly 7,500 cubic meters of land contaminated with dioxin in Phu Cat Airport during the Vietnam War has been filled up.
In 2007, the Ministry of Defense scraped off and then filled up nearly 100,000 cubic meters of contaminated land in Bien Hoa Airport.
A project funded by the US Government to remove dioxin contamination at and around Da Nang Airport is also underway and expected to complete by 2016.
Bakhodir Burkhanov, deputy director of the United Nations Development Program (UNDP), said that repercussions of AO contamination in the environment in Vietnam have been greatly reduced since 2006.
He affirmed that UNDP will continue to mobilize international and non-governmental organization efforts to complete their mission.