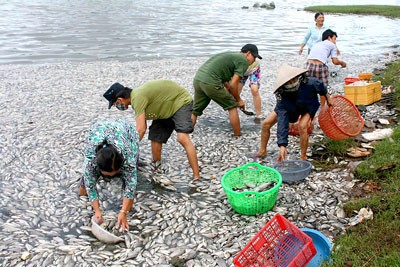 People taking out the dead fish from the pond (Photo: SGGP)
For the last two days, thousands of fish have been found dead in Bac Ho Pond in Quy Nho Town in the central province of Binh Dinh.
A massive number of dead fish are being washed up along the banks of the pond since December 28, and have been on the increase since.
Residents living near the pond are taking out the dead fish from the pond.
In the beginning they were but few in numbers but from the morning of December 29 large schools of dead fish, some floating and some at the bottom of the pond, began to decay and give off a foul stink.
Residents of Nhon Phu and Quang Trung Wards took out the dead fish from the pond and piled them along about ten meters of the road. A few passersby asked to purchase the dead fish at VND500 per kilogram for making animal feed.
Cause of the dead fish is still unknown and no related agency has conducted any investigation yet.