By Friday afternoon, thousands of workers who have been on strike in southern Dong Nai province since 27 November continued with their stance, rejecting new offers from management and refusing to resume work.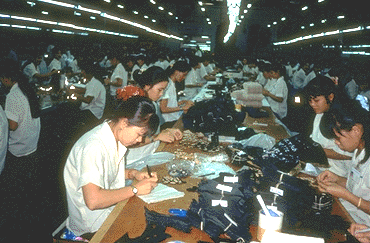 The Tae Kwang Vina plant
The strike is occurring at the South Korean owned Tae Kwang Vina plant in Bien Hoa's Industrial Zone No 2. The factory, which employs 14,000 people, is contracted to manufacture parts for Nike shoes.
The workers rejected offers made by director Yoo Jae Sung on November 29 and 30.
The latest decision saw the company agree to pay an additional VND70,000 (US$4.3) per person per month to cover transport costs. This change came into effect yesterday.

The Tae Kwang Vina also admitted to certain ambiguity in its payment regulations and suspended several staff involved in the management of wages, transport and social insurance.
But the company refused to raise the current lunch allowance of VND4,143 (25 cents) and instead has promised to enhance the hygiene and provide better meals in the company canteen.
Further negotiations between the trade union and the firm's executives are expected this morning.
The Tae Kwang Vina plant near Ho Chi Minh City pays an average monthly salary of VND1 million (US$62), around 20% more than Viet Nam's minimum wage. On 27 November 2007, over 10,000 workers at the plant went on strike, demanding seniority payment and protesting against having no bonuses on April 30, a national holiday in Viet Nam.
Analysts say that their strike is prompted by rising costs, triggered by rising inflation which had already climbed over 8 percent by October this year.