Three people were killed and six others were seriously injured in two railway accidents that occurred on February 3, in Binh Luc District of Ha Nam Province and in Dong Anh District of Hanoi, as reported by Sai Gon Giai Phong Newspaper.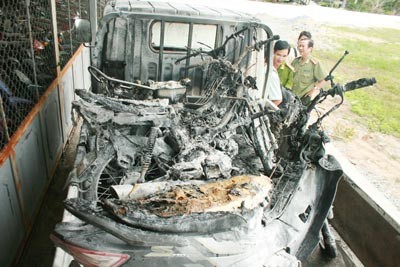 Three impounded motorbikes burst into flames while being transported on a police truck (Photo: SGGP)
The accident occurring in Ha Nam Province killed a bridegroom, his mother and a relative after the wedding party was hit by the north-south Thong Nhat SE13 train.
The accident occurred when the three victims were jay-walking across the railway tracks to return to their car, which was parked nearby.
All the victims were returning with the bride from the northern province of Bac Giang to their hometown in Thai Binh Province.
Another railway accident occurred in Dong Anh District in Hanoi when a train rammed into a car, injuring six people. Four of the people suffered serious injuries.
The accident was caused by the negligence of the car driver when he drove recklessly over the railway crossing.
In related news, one person suffered from a broken arm when a car and truck collided in Phu Yen Province, which completed destroyed the car.
Also, three motorbikes were impounded by the police for over-speeding in Can Tho City on February 3, and which subsequently burst into flames while being transported on a police truck.
One police official in Phong Dien District said the fire started from one of the bikes whose motor was still running and quickly spread to the other two bikes.
All the three motorbikes were completely charred as was the carrier   cabin of the truck, which was partially burnt.