By yesterday evening, six bodies had been pulled out of several meters of rock and earth in central Viet Nam following a Saturday landslide which buried 18 quarry workers. It is estimated to take at least 10 more days to reach the remaining victims who are feared also dead.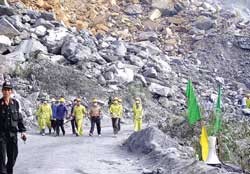 Rescue efforts continue to reach the 12 remaining victims, believed to be buried 15-30m under rock and soil
Le Cong Tu, 21 years old, Nguyen Van Van, 41 and Vo Van Trang, 21 were found and confirmed dead yesterday. A day earlier, three other bodies were retrieved.
 
The victims were quarrying stone at the foot of a mountain in Nghe An Province's Tuong Duong District to serve the nearby Ban Ve power plant.
Though nearly 500 soldiers, militia and dozens of backhoes and trucks have been mobilized, efforts to get to the remaining 12 victims are difficult as the only access to the site is by a narrow path on the mountainside that is obstructed by thousands of tons of soil.
And the victims are suspected to be buried 15-30m deep under some 500,000 cubic meters of rock and soil.
Hydropower Project No 2 Director Dao Duy Tan told Sai Gon Giai Phong it would likely take at least 10 days to dig the remaining victims out of the rubble while local authorities feared that even with round-the-clock work, it would take 15 days to complete the rescue efforts.
Nearly 400kg of dynamite has been used so far to blast through rock and soil to reach the bodies. But, since cracks were discovered, rescuers have had to proceed with extreme caution, fearing another rockslide.
As no rain has fallen in the area recently, officials suspect the incident was caused by explosives used at the mine on Friday to remove stones. However, the theory has not been confirmed.
Of the 18 victims, eight work for state-owned Song Da Corporation No 5, nine for the Song Da Corporation No 2, and one for Electricity Viet Nam's Hydro Power Project Management Unit No 2.
Vietnamese President Nguyen Minh Triet, Prime Minister Nguyen Tan Dung and National Assembly's chairman Nguyen Phu Trong have sent their condolences to families of the victims. Deputy Prime Minister Hoang Trung Hai was sent to Nghe An to directly oversee the search operation.
The Song Da Corporation has announced it would initially donate VND30 million (US$1,875) to each victim's family, while Nghe An province will provide VND5 million to each family.
The Vietnam Oil and Gas Group (PetroVietnam) and the Ministry of Construction each will also grant VND500 million (US$32,000) to the bereaved families. Meanwhile, Sai Gon Giai Phong has donated VND54 million.