The Ho Chi Minh Customs Department on June 9 applied a new national electronic one-stop customs clearance in Cat Lai Port, Vietnam International Container Terminals and Tan Cang Port.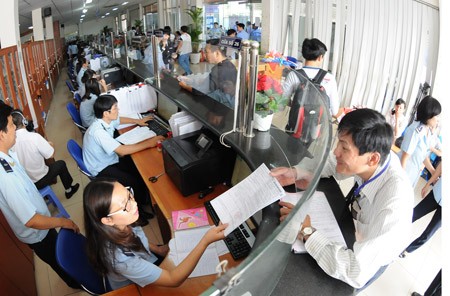 Automated customs clearance is conducted at Cat Lai Port in HCMC on June 9 (Photo: SGGP)
The Vietnam Automated Cargo and Port Consolidated System and the Vietnam Customs Information System (VNACCS/VCIS) permit customs agencies, businesses, banks, transport and logistics firms and other agencies to connect together to reduce paper use and time to complete customs procedures electronically. 
Businesses and customs agencies can tighten up management of not only normal export and import commodities but also tax-free and temporarily imported for re-export goods via online data system. 
The system was officially implemented on April 1st  and will be widely applied across the country by the end of this month, said Head of Vietnam Customs General Department Nguyen Ngoc Tuc. 
The implementation has proved effective and been on schedule in 32 out of 34 customs departments in provinces and cities, he said.